Clinical Research and Biotechnology are two of the fastest growing economic sectors in Wilmington and Southeastern North Carolina.
The NC Coast Clinical Research Initiative is a collaboration between the NC Biotechnology Center's Southeastern Office, UNC Wilmington, and the local cluster of Clinical Research companies.
The objectives of the initiative are to:
Create a more cohesive cluster of CRO and biotech organizations in the region;
Promote Southeastern NC's Clinical Research community locally and outside of the region;
Increase physician-led trials in our area;
Attract, train, and retain the "best and the brightest" talent for the region's clinical research industry cluster;
Increase access to clinical trials throughout the region.
Favorably impact economic development growth in the area.
Duke Energy
In partnership with the N.C. Biotechnology Center Southeastern Office and local clinical research company leaders, UNC Wilmington's College of Health and Human Services was awarded a $390,000 grant from Duke Energy to design and implement a workforce development program for the local clinical research industry that will add to the educational and networking opportunities already offered in the area. The program will create new opportunities to support the best-prepared clinical research workforce in the country, with continuing education offerings, curriculum enhancements, a highly selective fellowship program, and a collaborative workspace.
Leadership Team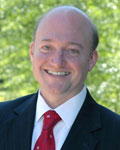 Randall Johnson
North Carolina Biotechnology Center
Executive Director, Southeastern Office
About NC Biotechnology Center
The North Carolina Biotechnology Center provides long-term economic and societal benefits to North Carolina through support of biotechnology research, business, education and strategic policy statewide. Headquartered in Research Triangle Park, the Center has five regional offices, including the Southeastern Office in Wilmington, focused on regional biotechnology economic development.